COVID 19 CRISIS: Our activities during the pandemic
Due to the global pandemic our activities have slowed down but we continue our projects in 2021 despite travel restrictions.
Our project in Vietnam
The Vietnamese government closed the country's borders at the beginning of the pandemic and have yet to open them. We continue our support of the students at the school and maintain contact  with our partner , Pascal Rousseau of Heaven & Earth Bicycle in Hoi An who will be providing us with an update on the activities of the Duy Vinh primary school and its students this year.
Our project in Tunisia
Tunisia's borders have been opened and closed intermittently throughout the 2020. As founder and current President of Outback Riviera I have managed to make several trips to Tunisia throughout the year in between lockdowns to bring some clothes to the poorest families of Kasserine. Our association also helped purchase basic food staples to help them through their lockdown as food prices have gone through the roof during the pandemic.
Due to the virus and the instability of the region of Kasserine, we are unable to travel to the area for the time being and so, we have not yet formed a viable relationship with a school in this region, but have a promising contact. Ten years after the revolution in Tunisia, not much has changed to improve life in the region due to corruption, and its people are still in dire need of help. 
 But happily, one of our long-term goals has become a reality sooner than we had imagined. Recently, we were able to purchase a sewing machine for a young tailor from Kasserine enabling him to set up his own workshop. He is on his way to becoming self-sufficient. Our next step is to purchase a second machine within the next few months so he can handle a wider variety of work. Sustainable entrepreneurship is one of our long-term goals which has become a reality sooner than we imagined.
The Majed Aissa Primary School
At the beginning of 2021 Outback Riviera made a connection with a Tunisian association. With the help of one of their members, Atef Mzoughi, we have been able to donate some children's clothing and purchase a computer printer for the school "Majed Aissa", a primary school for special needs children, located in a close suburb of Monastir. We look forward to continuing this project in 2021.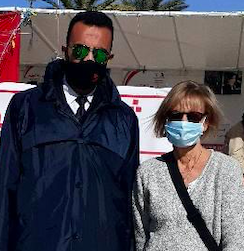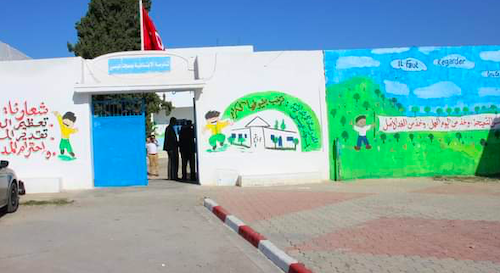 Atef Mzoughi with the President of Outback Riviera in Tunisia,  Majed Aissa Primary School.             
A new partnership in Sidi Alouane 

In March 2020 we met with retired school Director, Mr Tahar Alouane et Dr Lofti of Sidi Alouane, a small village outside of Mahdia, who have several ongoing projects to provide aid to a local school and its students. We hope to return to Tunisia the end of the pandemic to visit the school and discuss how we might work together.

Dr Lofti's association currently provides school supplies to each of the children in the local primary school, and sponsors graduating students in their continuing formation.

We have been able to make a small donation of clothing to the village of Sidi Alouane through our recent contact, Pascale, a French expat now residing in Sidi Alouane with her family. We look forward to advancing this project in 2021.